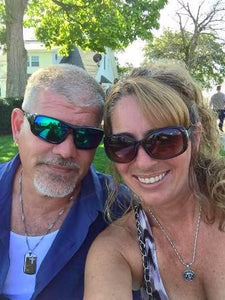 Fashion Snap Jewelry
Beautiful jewelry collections that can be changed in a snap to match your moods and your fashion sense. One jewelry set contains endless possibilities!
I came across this jewelry in Sturgis and fell in love. I stood there in awe searching thru all of the different snaps available to create any look I wanted. This stuff was the coolest invention ever! Having one set of jewelry that you can simply change a snap on to create a whole new look. I wear my jewelry for any occasion. I wear it while riding on our motorcycle, I wear it to work, I wear it to go out for dinner, heck...I can wear it anywhere!!! I fell in love with the jewelry so much I decided to look into selling it myself so others can enjoy the versatility of snap jewelry...and here I am!
I have recently been diagnosed with Breast Cancer. I am creating a complete Cancer Awareness line along with Chemo Hats and compression sleeves. I will be donating a portion of all profits from the Cancer Awareness line to help find a Cure. Together we will win... Together we will find a cure!
Click here to donate to American Cancer Society
---
As quickly as changing a snap you can change your entire look with this jewelry. Beautiful Interchangeable Snap Jewelry
---
Check out our new arrivals!